Warehouse Signs
View Sign Gallery
When it comes to warehouse management and efficiency, signs and labels aren't just for aesthetics. They play a vital role in a warehouse's signage and labeling system. This is why high-quality warehouse signage is something business owners like you should invest in.
Warehouse signs are excellent tools in keeping your establishment safe, organized, and efficient. And they can come in so many forms, too: information and safety signs, overhead signs, floor decals, vinyl banners, metal signs, traffic signs, wayfinders, etc.
Axe Signs & Wayfinding has been a trusted local signs provider for a long time, and our years of experience tell us that for warehouse signage to communicate to your audience, you shouldn't settle with just the generic ones. Effective warehouse signs need to be professionally designed, guidelines-compliant, and strategically installed. And we at Axe Signs & Wayfinding can deliver just that to you.
Call Axe Signs & Wayfinding today at (901) 763-6765 for a Free Consultation with a Construction Sign Specialist!
Organization, Safety, & Efficiency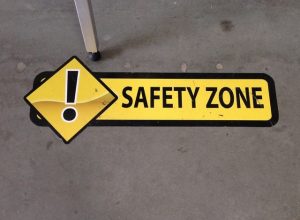 An organized warehouse is a safe and efficient one. By having precise and readable warehouse signage in conspicuous areas of your building, you are setting up helpful tools for location marking, navigation, safety reminders, inventory management, and operation prompts. All these help your staff and workers do their jobs faster, more accurately, and with fewer errors.
Warehouse signs obviously help you organize the layout of your warehouse by marking different areas and locations, what they are for, who are allowed inside, and how to get there. But even better is they help you organize your process and operations by allowing you to constantly remind your workers about time-specific instructions and tasks.
At Axe Signs & Wayfinding, we can help you make the most of your signs by designing, producing, and installing them in a way that maximizes visibility, impact, and retention. We are excited to help you achieve a warehouse that's organized for your daily operations, safe for your products and staff, and efficient for your business.
Durable Signage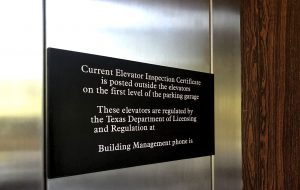 Durability is a much bigger deal with warehouse signs that it is for many other types. This is primarily because the nature of warehouses…it's all work, work, work there. Foot traffic, forklift traffic, constant moving of items, and other factors can make it difficult for ordinary signs to survive.
Which is why high quality, long-lasting signage is what you need for your warehouse. And Axe Signs & Wayfinding has what you need. Our floor signs, for example, are specially laminated for durability and can come with anti-slip or pebbled surfaces. Our wall signs are legible even from a distance and are expected to stay that way for years.
Axe Signs & Wayfinding ensures each sign's durability and reliability by sourcing out only the best sign materials out there. Having been in the industry for many years, we have established a strong network of suppliers that allow us to use the best materials in making signs that can stand against harsh temperatures and environments.
Signage Customization
Axe Signs & Wayfinding's wide selection of sign designs and materials not only allow us to produce durable signage for you, it also allows us to deliver signs that suit your business needs, your preferences, and your budget.
If you are looking for lightweight signs, for example, we can use rigid PVC, coroplast, or vinyl. If you're looking for something light but sturdier than plastic, we can use anodized aluminum or alumalite. Axe Signs & Wayfinding's team of experienced signage specialists are ready to work closely with you. They work hard to know exactly what you are looking for and to know what to use and what to do in order to give you the best sign type for the job.
Full-Service Sign Company
As an established local warehouse sign company, we at Axe Signs & Wayfinding are proud of the fact that we not only print out signs. We actually go through the entire sign-making process with our clients and are able to assist them every step of the way…from design, to production, to installation, and even to repairs.
We are also proud of our team of experienced designers, project managers, maintenance crew, and signage specialists. Axe Signs & Wayfinding produces quality, guidelines-compliant signs because we make sure to study and familiarize ourselves with your business goals, the laws in your location, your market, as well as your budget. We are a driven team of professionals with relevant knowledge, equipment, and experience and we are excited to work with you.
Free Warehouse Signs Consultation
Choosing and purchasing warehouse signage is definitely not as easy as others may believe. It requires study, careful material selection, professional design, strategic placement, and a lot of client-provider coordination. We've successfully done this with numerous clients in the area, and we're confident we can pull this off with you too.
Make the most of your warehouse signs! We'd be more than willing to have one of our experienced signage specialists discuss things with you.
Call Axe Signs & Wayfinding today at (901) 763-6765 for a Free Consultation with a Warehouse Signs Specialist!