Ellendale Vinyl Signs
View Vinyl Sign Gallery
If you're looking to visually improve your business space at a high-quality level, you won't go wrong with our Ellendale, TN vinyl signs. Perhaps the most popular material in the signage and graphics industry, vinyl is a highly adaptable material that can be used for almost every graphic purpose you desire.
Vinyl is available in many variations of colors, weights, finishes, and other specifications. And all our vinyl types are made and quality-controlled to be as durable and functional as possible. Rest assured that the vinyl signage you will get from Axe Signs & Wayfinding won't just fit any graphics you need to have for your business but also fit the highest standards of quality in the signage industry.
Enjoy unique vinyl signs from Axe Signs & Wayfinding, a top-notch signage company that can provide more than first-rate Ellendale vinyl signs. We can also provide stellar customer service and free consultations if you want to have expert advice on which signs to set up for your business. We are here to find out the best signage solutions for your business and show how they can work towards your goals at the optimum level.
Call Axe Signs & Wayfinding today at (901) 763-6765 for your Free Consultation with a Ellendale Vinyl Sign Expert!
Promotional Vinyl Banners
Vinyl banners work great for several uses, including grand promotional events or a permanent visual element in your business space for advertising purposes.
Our banners are highly customizable, making them adaptable to any event or design you want them to match. Just tell us the design, size, colors, weights, and other specifications that you want for your banners, and we'll make sure to apply them to our highly durable vinyl banners.
For on-site visual signage or a set of event-based graphics, our high-quality vinyl banners will work great for any purpose. Our team of highly experienced signage experts is here to provide all the services and products for you, including design services and even the accessories and structures that will be featured in your banner units.
Window Vinyl Clings & Film
Vinyl graphics can also be placed on windows and glass walls, as you may notice in businesses like restaurants, offices, service providers, and the like. They are used not just to apply amazing designs on glass but also to provide privacy and the option to not completely replace glass walls with something more permanent.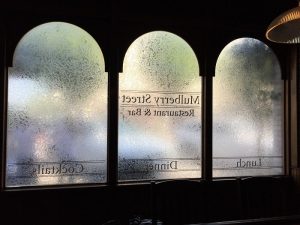 Another great thing about window vinyl clings is that they can be easily removed, replaced, and even reused. This is due to the way they are attached to the glass, which is either through temporary glue or static-cling adhesion.
This feature works great for businesses that want to occasionally change the content of their window signs to keep up with their changing product lines and seasonal specials. This also works for those who do business in a temporary rented space and can't permanently replace the building structure.
Get our window vinyl graphics and enjoy a variety of options in colors, fonts, and design in general.
Cut Vinyl Lettering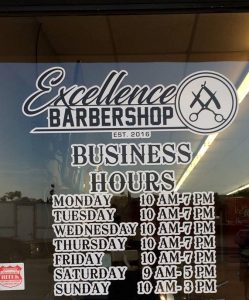 A highly versatile yet simple application of vinyl graphics is cut vinyl lettering. Cut vinyl lettering signs are mainly used to display information like business hours, offered features, business licenses, and accessibility features. They are typically placed on the front door and other easily seen parts of a business building.
Cut vinyl letters strategically placed around your building can establish your brand, create a professional ambiance, and ultimately impress your customers and clients on their first impression. Not to mention, cut vinyl lettering products are very affordable, making them one of the best investments you can get from vinyl graphics.
Wall Murals & Floor Graphics
Our Ellendale vinyl signs and graphics can also be applied to all kinds of walls and floors. Large murals that establish your brand through various images or portray important company information are great investments for just about any type of business.
If your building has blank walls, our durable and attractive wall murals will work great for them. Use them for wayfinding, brand establishment, beautification, or general information dissemination as you please. Our experts at Axe Signs & Wayfinding can help you maximize the options for vinyl murals to make sure they serve your business perfectly. We can design, create, and install these murals in the best ways to make sure they match your goals.
With Axe Signs & Wayfinding, even your floors can be installed with high-quality vinyl that can withstand foot traffic. No matter what material your floor is made of, whether it's wood, stone, concrete, tile, or even carpet, our experts can make vinyl work on them.
We can help you maximize your walls and floors with industry-grade vinyl graphics spread across the largest spaces of your building. For permanent building images to promotional events, vinyl graphics on walls and floors are fantastic investments for your business.
Vinyl Graphics Options
Vinyl is such a versatile material in the signage industry that there are just so many options to choose from. You have varieties in material, color scheme, types, size, thickness, and so much more. While this allows great customization options for your unique business, this also makes it a challenge to pick the right specifications for you.
Fortunately, you have Axe Signs & Wayfinding, and we offer these amazing Ellendale vinyl signs and graphics and much more. We are also here to provide our most honest and passionate expert advice to all our clients. We only want what's best for your business, and so you can expect that what we can recommend to you will be the best fit for your goals.
Here's a short list of some of the vinyl products that we offer:
With Axe Signs & Wayfinding, you won't need to study up on vinyl products at all. You can just tell us what you want, and we'll recommend the best vinyl products for you–fully customized and quality controlled to perform perfectly.
Full-Service Vinyl Graphic Shop
Axe Signs & Wayfinding is a full-service signage and graphics shop. We are fully capable of conducting all the services involved in providing signs to our clients, including consultations, customer support, design, layout, manufacturing, installation, finishing, and repairing signs and graphics.
We have all the resources, experience, and facilities needed for such services. All we need from you is to tell us what you want, and we'll create it for you in no time. Knowledgeable about signs or not, you are welcome to enjoy the full array of our services for your benefit.
Whether your company has an existing set of brand guidelines or not, our graphic designers are here to work with whatever you've got. Our fabrication team and installation experts will handle the production and installation of your signs with efficient workmanship. Throughout the process, we will update you and ask for any changes you may want to apply. Our main goal is to create and install the best Ellendale vinyl signs and other products for your business.
Free Vinyl Signs & Graphics Consultation
Enjoy Axe Signs & Wayfinding's finest Ellendale vinyl signs for your company's benefit. Rest assured that the products you acquire from our company are 100% made with the utmost professionalism and efficiency, quality-controlled to meet the highest industry standards in terms of durability, function, and visual precision. From the smallest vinyl cutouts to the largest floor murals, we are here to provide for every signage need you have.
Call Axe Signs & Wayfinding today at (901) 763-6765 for your Free Consultation with a Ellendale Vinyl Sign Expert!