Memphis Sign Company
View Sign Gallery
Axe Signs & Wayfinding offers industry-quality signage products and services for all your needs, whether it may be to boost your company's advertising and visibility or to have attractive graphics for a special public event.
We are your full-service provider of all the signage you need, from in-depth consultations, design, and planning to highly technical services, including installation, finishing, and repairs. Our sign experts conduct their services with proven, excellent workmanship.
We begin our process by getting all the necessary information we can about your company goals. We discuss your brand, preferences in design, budget, schedule, and creative vision. Our resident graphic designers will professionally handle the blueprint of the design. We also have resident manufacturing experts who, with our top-notch facilities, will create the final product exactly as we designed them. If the signs you order are large-scale or complex, we have installation specialists who know how to maximize your space and perfectly install signage onto your building.
We provide every sign type you need, from informational indoor signs to high-visibility outdoor signs. Axe Signs & Wayfinding is a top-notch Memphis, TN sign company that can provide the best signage products you need, fully customized to fit your goals, whether business-related or personal.
Call Axe Signs & Wayfinding at (901) 763-6765 for your Free Consultation with a Memphis Signage Expert!
Signs That Work For You
At Axe Signs & Wayfinding, we don't just sell different types of signs and print some words and images on them. We are here to provide signage that is strategically designed and created to perform perfectly according to your needs.
With our finest signage, you can strengthen your company brand, promote employee productivity, disseminate information, help people navigate around your building, or simply add beauty to your working spaces. We will create these effective signs based on your business needs to make sure they make a significant impact on your company.
No matter how complex the signage product you request, we have the facilities, expertise, and resources to create them as flawlessly as possible. So if you want highly efficient signage made just for you, Axe Signs & Wayfinding is the best Memphis sign company to partner with.
The Right Signage For Your Business
Great products and services go a long way towards making a great company, but there's more to it than that. You have to let people know your products and services are great, and that your company stands above your competitors. Top quality signs from Axe Signs & Wayfinding will send that message loud and clear.
We can help you find the right mix of design, placement, and sign type to create signs that are highly effective in making you outshine not just your competition but also nearby businesses around your community. Our signs will make your customers remember you each time they take advantage of your company's services, and more.
Signage for product promotion and special events is also available. You can temporary signs to highlight certain products seasonally and grab the attention of the public. Once you've got their attention, your business will benefit from highly intuitive wayfinding and directional signs to help your customers and employees navigate their way around your building.
No matter how complex or specific your signage needs might be, Axe Signs & Wayfinding's sign experts can create them for you.
Outdoor signs work perfectly for businesses that need a lot of interaction with passersby, such as restaurants, cafes, retail stores, and the like.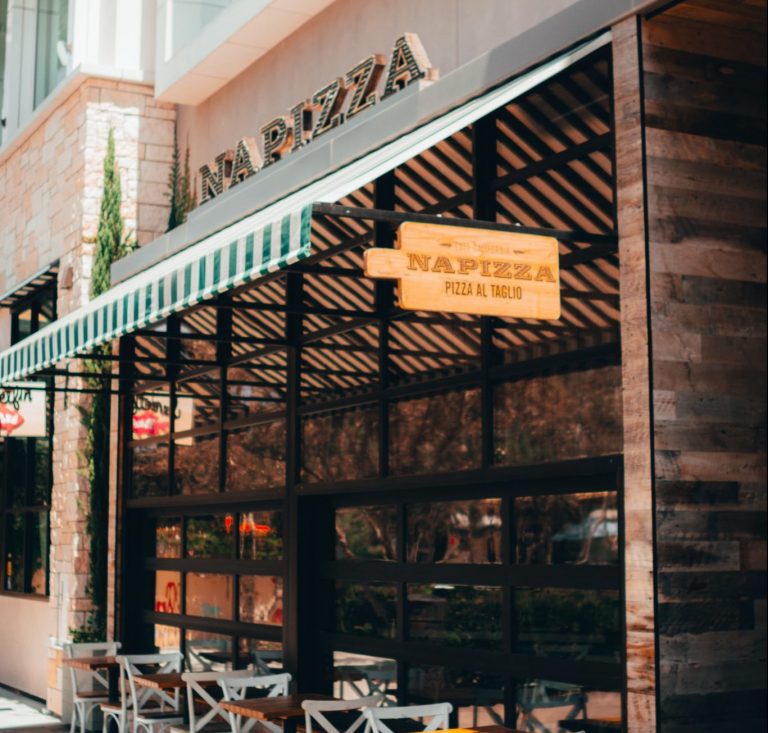 Storefront signs are the first signs that people see when entering stores and businesses. With effective design and placement, your outdoor signage can inform people about your products and services, as well as make your business be seen. Partner your building signs with effective supporting signs like A-frames, vinyl cutouts, banners, or window clings, and your business will have no problem catching the attention of customers and informing them at the same time.
For amazing-looking storefront signs, we can provide dimensional letters or channel letters. You can also benefit greatly from high-visibility lighted signs or towering pole signs, and pylon signs. Attach information to your windows and glass walls with our cutout vinyl. You can also take advantage of the boutique-like feel that only canopy signs can provide.
Every sign need you will ever have can be supplied by one Memphis sign company. All you need to do is tell Axe Signs & Wayfinding what signs you need, and our signage experts will design, create, and install them for you with stellar workmanship.
Here are some examples of our outdoor signs:
To support your outdoor signs, you need good indoor signage that can continue the functionality and aesthetic on the inside of your business. As your customers get inside your building, it is important that your indoor signs maintain the same brand that your outdoor signs established, making a whole united system of graphics.
Aside from brand establishment, indoor signs are also used to relay information, such as working hours, directions, products, services, and even texts that engage and entertain your customers.
From menu boards for restaurants and cafes to vinyl window clings that can cover glass walls of offices, Axe Signs & Wayfinding has got just the right indoor signage for you. Tell us what you need, and we can recommend the best signage solutions to match your goals.
Here's a few examples of our indoor signs that we offer:
Vinyl makes up a significant chunk of signage products. This is because vinyl is such a flexible and durable material, making it perfect for the customization demands of the signage business.
Get the highest quality vinyl signage from Axe Signs & Wayfinding. You can choose among many specification options, such as color, thickness, finishes, and a lot more. Use vinyl in almost any sign type to reach your wayfinding, information dissemination, brand establishment, and beautification goals.
Tell us your creative ideas or let us know your needs so we can recommend the best vinyl solutions for you. As a leading Memphis sign company, Axe Signs & Wayfinding is your source of the best vinyl signs.
Here are just some of our vinyl sign options:
The durability or structural quality of a sign are vital, but only if it displays the content that you specifically need to promote your business. No matter how highly customized you need your sign to be, Axe Signs & Wayfinding has all the resources and experts you will need to pull off your vision.
You can tell us all about your specific signage goals during our free initial consultation session. Tell us all about your business situation and how you want your signs to work for you. Our graphic designers and signage specialists will discuss all the best solutions we have to achieve the custom signs you want. We will make sure that you will be fully satisfied with the products from the designing phase to the fabrication of the final product.
Axe Signs & Wayfinding is your full-service Memphis sign company, capable of creating even the most unique signage products. As long as your company needs it, we will provide it.
Complete Commercial Signage Company
Axe Signs & Wayfinding is here to provide everything you need when it comes to signage. As a top-notch Memphis sign company, we can cater to all types of requests when it comes to signage products and services regardless of difficulty, complexity, design, industry, business type, or budget. We will create the effective, durable, and attention-grabbing signage that you need.
We begin our process with a free consultation wherein we give you the chance to decide if we are the right company for you. This will also be the time for us to obtain all the necessary information that we need from you in order to find the best signage solutions for your needs. We will create mock-ups for the design to ensure all desired changes will be applied before the final product is produced.
Our fabrication team will ensure the quality of the signs as they create them with our state-of-the-art tools and facilities. After the products have been produced to perfection, our installation team will finish the job, making sure that your signs are firmly, safely, and securely attached to your storefront, walls, floors, or other surfaces.
We create all our products in-house, and we make sure that they are as eco-friendly and sustainable as possible. This helps us provide less expensive products without compromising any of the quality.
If you need top-notch signage products from a Memphis sign company that will pull through no matter what kind of needs you have, Axe Signs & Wayfinding is your best choice.
Our Commitment To You
If you're looking for a Memphis sign company that will provide everything you need to get amazing and highly effective signage, you've come to the right place. From high-visibility outdoor signs to brand-recognition and wayfinding interior signs, we've got your back. We have all the tools, facilities, and resources needed to produce quality products. We also have the best sign experts in town, trained for years in signage production, design, and installation.
Partnering with us means creating signage that works perfectly according to your specific business needs, including your competition, branding guidelines, challenges in visibility and advertising, and other relevant information related to improving your business. You can rest assured that your budget for signage will be worth it. Axe Signs & Wayfinding is your top Memphis sign company, and we can't wait to work with you!
Call Axe Signs & Wayfinding at (901) 763-6765 for your Free Consultation with a Memphis Signage Expert!