Memphis Outdoor Signs
View Outdoor Sign Gallery
Outdoor signs are the main visual products in charge of attracting customers, establishing branding, and creating a building aesthetic for your business. With Axe Signs & Wayfinding's top-of-the-line Memphis, TN outdoor signs, your business can experience a great boost in customer traffic, satisfaction, and ultimately, in your bottom line.
Axe Signs & Wayfinding has all the facilities, resources, and expertise to create virtually any industry sign type. From massive storefront signs, pole signs, and monument signs to supplementary A-frame signs, outdoor banners, and hanging signs, we can produce them all at the highest quality of craftsmanship allowed by modern technology. These signs are all effective in performing their intended purposes, from attracting customers to informing them about your products and services.
Tell us your creative ideas and branding guidelines, and we can create fully customized outdoor signs that showcase your unique message as a company. If you want to impress your customers with eye-catching signage that will make them interested in what you have to offer as a business, then you came to the right place. Axe Signs & Wayfinding is the best provider of Memphis outdoor signs and services available in the industry.
Call Axe Signs & Wayfinding today at (901) 763-6765 for your Free Consultation with a Memphis Outdoor Sign Expert!
Storefront & Building Signs
There are many options available for outdoor signs and choosing the right one can be a game-changer for your business. Storefront signs are the most visible signage product in most commercial buildings. With the right blend of visibility, information, durability, and aesthetics, your storefront sign can be the next big upgrade you can bring to your business.

Different businesses have different needs for a storefront sign. There are hundreds of different colors, sizes, thicknesses, sign types, and features to choose from. Selecting the right specifications depends on your business goals, budget, preferences, needs, and other relevant factors.
Axe Signs & Wayfinding will not just offer you generic signs with your name on them. We will help you find the best signage solutions from our long list of signage products and customize them to suit your business. We will help you analyze your business situation, competition, budget, local environment, and other factors to make sure we get the right specs for your storefront signs.
Channel Letters & Dimensional Letters
Many businesses use channel and dimensional letters as their storefront signs because they are a universally accepted look that can be customized into any output you want for your company.
Instead of having a flat sign glued on your facade, these signs are three dimensional and extend outward from the wall. Dynamic, stylish, and highly adaptable, channel letters and dimensional letters can do wonders for your business if applied properly.
Choose among a wide array of fonts, colors, designs, and other variations to create a fully customized look that matches your business's unique personality. Our experts can provide recommendations on how to properly pull off the look that you want to have.
All business types can use channel and dimensional letters to pull off a highly effective signage system due to their amazing design flexibility.
Lighted Signs
If you run a business that stays operational until the night, like hotels, restaurants, or gas stations, lighted signs are the ones you need to maintain that visibility no matter what the clock says.
Axe Signs & Wayfinding can apply modern LED technology to almost any sign type. LED light is significantly more cost-efficient and environmentally friendly yet less expensive than the traditionally used florescent or neon lights, and they can shine even brighter.
Our signage experts can provide digital lighting for signage like dimensional letters, channel letters, cabinet signs, and digital message boards. These signs can have backlighting, internal lighting, or up/down lighting, whichever will work best for your business.
Lighted signs are extremely visible and attention-grabbing during the night. Use them if you run a gas station, retail store, restaurant, convenience store, theater, nightclubs, bar, and the like.
Custom Sign Panels
Solid panels containing relevant business information make great cost-effective investments for any kind of business. Custom sign panels are another type of highly adaptable signage perfect for all types of usage, whether as a main storefront sign or supplementary sign.
You can get sign panels as minimalist signs or full-color signs containing as much information as you'd like. They can come as cut vinyl attached to a metal plate or a lightbox with an acrylic panel and translucent printing. Axe Signs & Wayfinding has a large variety of panel sign customization options to choose from.
Sign Panels work great for small businesses, manufacturing plants, auto repair, and service centers as they showcase a professional, attractive look.
Canopy & Awning Signs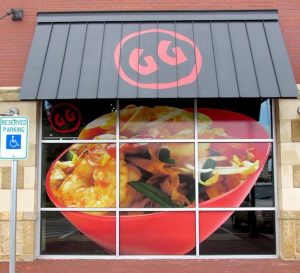 Canopy signs display a unique look compared to other sign types. They are made of a stretched canvas extending away from a facade, creating a sort of extra roof for the building. You can put your business name, logo, and other images on the canvas to vividly showcase your brand.
Canopy signs emit a boutique feel that works great for businesses like hotels, shopping centers, salons, specialty shops, thrift stores, eyewear, jewelry stores, and galleries.
Monument Signs
If you run an institution like a school, hospital, organization, or multi-business park, our monument signs will provide you with the formal and professional feel you need.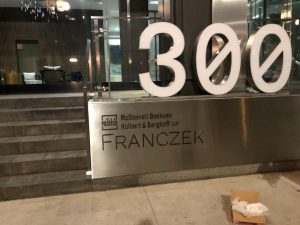 Monument signs are large sign types that are made with highly durable materials, like stone, brick, wood, or acrylic. We can etch or attach your company name, logo, and other information to monument signs. You can even add digital message boards for a truly modern look. Placed in the front field entrance of your institution, monument signs can be the best option for you.
Monument signs are popular for large institutions like government offices, schools, universities, private clubs, resorts, churches, corporate offices, and the like.
Pole Signs & Pylon Signs
Nothing can make your business more visible than high-rising pole signs and pylon signs. These signs are made to make a business be seen even from far away due to their elevated structure.
So if you run a business like a restaurant or a gas station located near a major roadway or interstate, pole signs are what you need to keep your business visible to customers. Get them in various designs, height, materials, and other specifications.
Pole signs remain the best option for businesses like fast food, shopping centers, gas stations, supermarkets, and businesses requiring extra visibility from the road.
Complete Exterior Signage Provider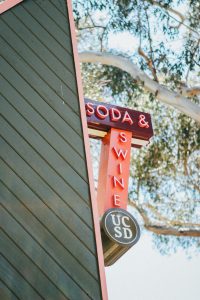 No matter what business you manage, outdoor signage is a must for it to progress properly. They perform various essential functions such as information dissemination, brand establishment, customer attraction, and advertising. Axe Signs & Wayfinding is your best bet in providing quality signage that works for your business.
From yard signs, post signs, flag signs, and a-frame signs to blade signs, pole signs, monument signs, and canopy signs, the outdoor signage types available in our inventory are enough to satisfy your business's needs.
To match your outdoor signs coherently and reinforce your branding, we also have a wide variety of indoor signs to choose from!
Here are some examples of our outdoor signs:
If you don't see the type of sign you are looking for, we still have more types in our stock. Furthermore, our company is fully capable of creating highly customized signage products. Our experts can create, design, and install any sign you have in mind. Just tell us your ideas, and we'd love to talk with you about the best solutions we have available.
Full-Service Exterior Sign Company
As a full-service provider of Memphis outdoor signs, Axe Signs & Wayfinding doesn't just provide high-quality products, we also provide all the sign services you need with excellent workmanship and professionalism. We handle consultations, customer support, project planning, design, manufacturing, installation, repair, and finishing.
We have resident graphic designers who can make designs for your business from scratch. Even if you don't have a plan in mind yet, we can help you understand your business's personality and create visuals accordingly. Otherwise, we are happy to work with your existing branding guidelines. We also use our own manufacturing facilities, allowing us to control the quality of all the signs that we create.
Rest assured that all products that come from our company to yours are at their peak condition in quality, durability, and functionality. Our expert installation team will make sure your signs will be properly installed regardless of the complexity.
Everything you need is here in one Memphis sign company. We aim to be your one-stop-shop for all your signage needs. From Memphis outdoor signs to indoor signs, vinyl signs, business signs, and all other sign types, we can make them for you at the highest quality possible.
Free Outdoor Sign Consultation
Axe Signs & Wayfinding is your best provider of high-quality, durable, attractive, and highly effective signs. We are here to help your business grow through signs that can efficiently reinforce your brand, spread relevant information about your business, promote your products and services, beautify your building, and help people navigate their way around your business.
Let's talk about your business signage needs through our initial free consultation so we can find out together the best ways we can improve your business through high-quality Memphis outdoor signs.
Call Axe Signs & Wayfinding today at (901) 763-6765 for your Free Consultation with a Memphis Outdoor Sign Expert!